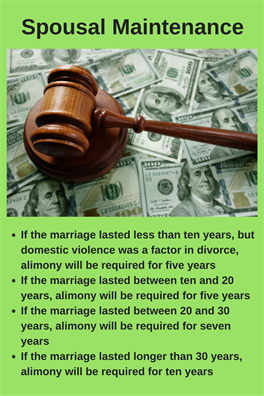 The state of Texas orders spousal maintenance as opposed to alimony - and it is very difficult to get. However, if you have been ordered to pay spousal maintenance in the state of Texas, many factors will influence the amount. The length of your marriage, however, will play the most significant role in determining how long you are required to continue making spousal maintenance payments.
In general, spousal maintenance in Texas follows a straight-forward timeline:
If the marriage lasted less than ten years, but domestic violence was a factor in divorce, maintenancewill be required for five years
If the marriage lasted between ten and 20 years, maintenancewill be required for five years
If the marriage lasted between 20 and 30 years, maintenance will be required for seven years
If the marriage lasted longer than 30 years, maintenancewill be required for ten years
A time limit on spousal support is not applicable in cases where the supported spouse has certain physical or mental disabilities or is caring for a child with those same disabilities. In these cases, the court may order periodic reviews to assess changes in the condition and determine how long support will need to continue.
Spousal maintenance is not a part of every divorce in Texas, but it is far from uncommon. During your initial consultation, Sugar Land divorce attorney Yasmin Kutty can discuss its likelihood in your case along with strategies that may help ease the burden as time passes.
To schedule a consultation at our Sugar Land Office, please contact The Kutty Law Firmonline or call (713) 955-7477 today. Mrs. Kutty serves Sugar Land, Katy, The Woodlands, Houston and all surrounding areas.